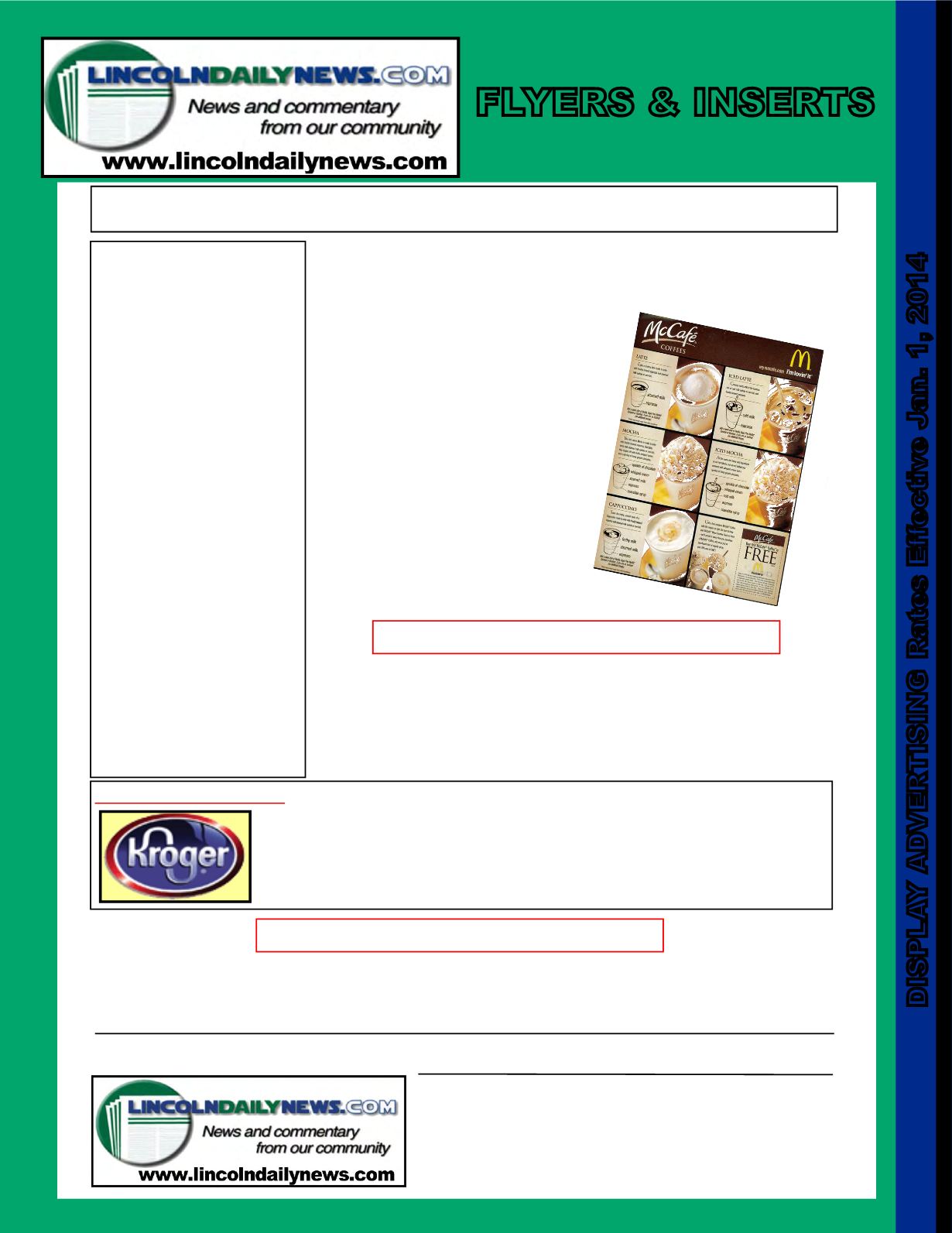 Rates Effective Jan. 1, 2014
N
o one can argue with the value of preprinted inserts to carry your
full color advertising message to your prospects. Traditionally carried in
daily or weekly newspapers or delivered via US mail, they provide special
product information, pricing and
coupons for your products and services.
But, a large portion of delivered third-
class mail gets thrown away before it
is read, and readers are turning away
from print newspapers and turning their
attention to internet news.
The answer is to distribute your inserts
electronically via online newspapers
such as Lincoln Daily News. We
already have the local readers who are
looking for local goods and services.
Your distribution costs are lower, and
your potential reader pool is large.
DISTRIBUTE YOUR PREPRINTED INSERTS -- ELECTRONICALLY
Why choose Lincoln
Daily News?
Lincoln Daily News is a free
publication that covers news and
events occurring in Lincoln and
the Logan County area in Illinois.
We publish six days a week on the
com. We deliver over 10,000
unique daily readers with over
87% of them coming from Logan
County. Why? Because we're
local, free and available 24/7.
You have never seen a newspaper
like this anywhere. We host a
large volume of local advertising
that can link to additional
information, coupons, inserts and
websites. Every front page photo
is local. We don't have to protect
a print newspaper circulation, so
every story is listed on the front
page with the full story behind it.
We have archived every edition so
you can search and access all past
stories and photos since our first
We invite you to take a look.
, Director of Advertising
601 Keokuk St. Lincoln, IL 62656
front page button
your store logo and link it to your insert in a our
Advertising Inserts section in "Top Stories"
• your weekly/bimonthly changes FREE!
Now
Only
$
350
*
with a minimum
six month commitment
MULTI-PAGE PRE-PRINT INSERTS
$350
• Full Color Button ad on LDN Front Page with link EVERY DAY
• Ad changes: $50 each per change during month
• This pricing applies to 4 pages & up each insertion
SINGLE SHEET FLYERS
$230
• Full Color Button ad on LDN Front Page with link EVERY DAY
• Ad changes: $50 each per change during month
Advertising must be submitted on CD/DVD or emailed two days in advance of publication and be in one of the following
file formats: PDF, JPG/JPEG, TIF, PAGEMAKER or INDESIGN.